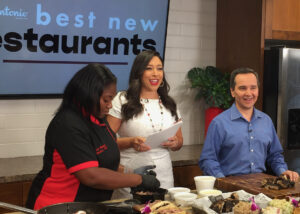 From time to time, I'll make media appearances to talk about San Antonio or promote a project.
When the Travel Channel came to make an episode of Bizarre Foods: Delicious Destinations, they asked me to talk about the food of San Antonio.
And when WFAA-TV in Dallas wanted to settle the question of which city in Texas makes the best breakfast tacos, it visited with me to set the record straight.
Even during the 2016 presidential election, the Texas Standard radio program asked me to talk about what candidates should eat in San Antonio when they're on the campaign trail.
San Antonians treasured my insights and named me best local columnist by the readers of Scene in SA magazine when I wrote the Around the Town column, and I was profiled by NSIDE Magazine.