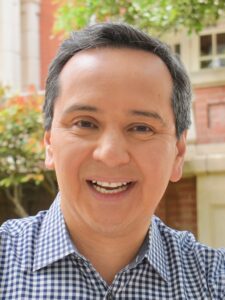 I currently serve as Director of Strategic Marketing & Communications at Keystone School, where I create content that brings our community together. I also write about food and dining for San Antonio Magazine. In 2017, I published a guidebook, San Antonio's Best Restaurants, and am working on an updated edition. Previously, I wrote for the San Antonio Express-News as a food writer and restaurant critic, and a year as Food & Drink Editor. My work has been published in Thrillist, Eater, First We Feast and Epicurious.
How did I get into food writing? While working in Milwaukee, I left my newspaper job to open up my own restaurant as chef/owner. After about a year as an entrepreneur, I closed my restaurant and returned to my family's hometown to resume my newspaper career. I covered education and was part of a team that won numerous awards for examining the issue of high school dropouts and then spent six years writing the "Around the Town" column. After my run as a columnist, I wrote obits for a year and then moved into food writing.
As a food writer, I powered the Taste section into winning Best Newspaper Food Section in the country in our circulation class from the Association of Food Journalists seven years in a row. The final year that the Express-News won this award was the year I served as editor. During that run, I was named runner-up for best restaurant criticism, and I won best newspaper feature.
During my last few years at the newspaper, I broadened my skills so I could move into marketing. I honed those skills as a part-time freelancer and a full-time marketing consultant, before joining the administration at Keystone.
My wife, Lupita, and I clean up after our son, his Miniature Schnauzer and our adopted cat.