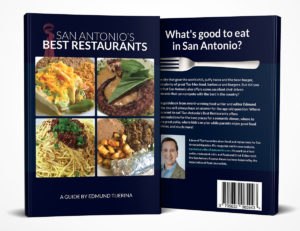 When my friends need a restaurant recommendation for the right occasion, they text or call me.
Now you can have my recommendations anytime you want.
San Antonio's Best Restaurants offers top picks in 40 categories ranging from which places are best for business meetings, where to get the best breakfast tacos, where to take kids and many more.
I draw upon 8 years of visiting a total of nearly 1,0000 restaurants in my work for my own site, SanAntoniosBestRestaurants.com, as a contributor to San Antonio Magazine and my years as a restaurant critic, food writer and Food and Drink Editor at the San Antonio Express-News.
San Antonio's Best Restaurants costs $9.99 and is available on Amazon.